Get on board for Catch The Bus Month this September
1 month ago Thu 31st Aug 2023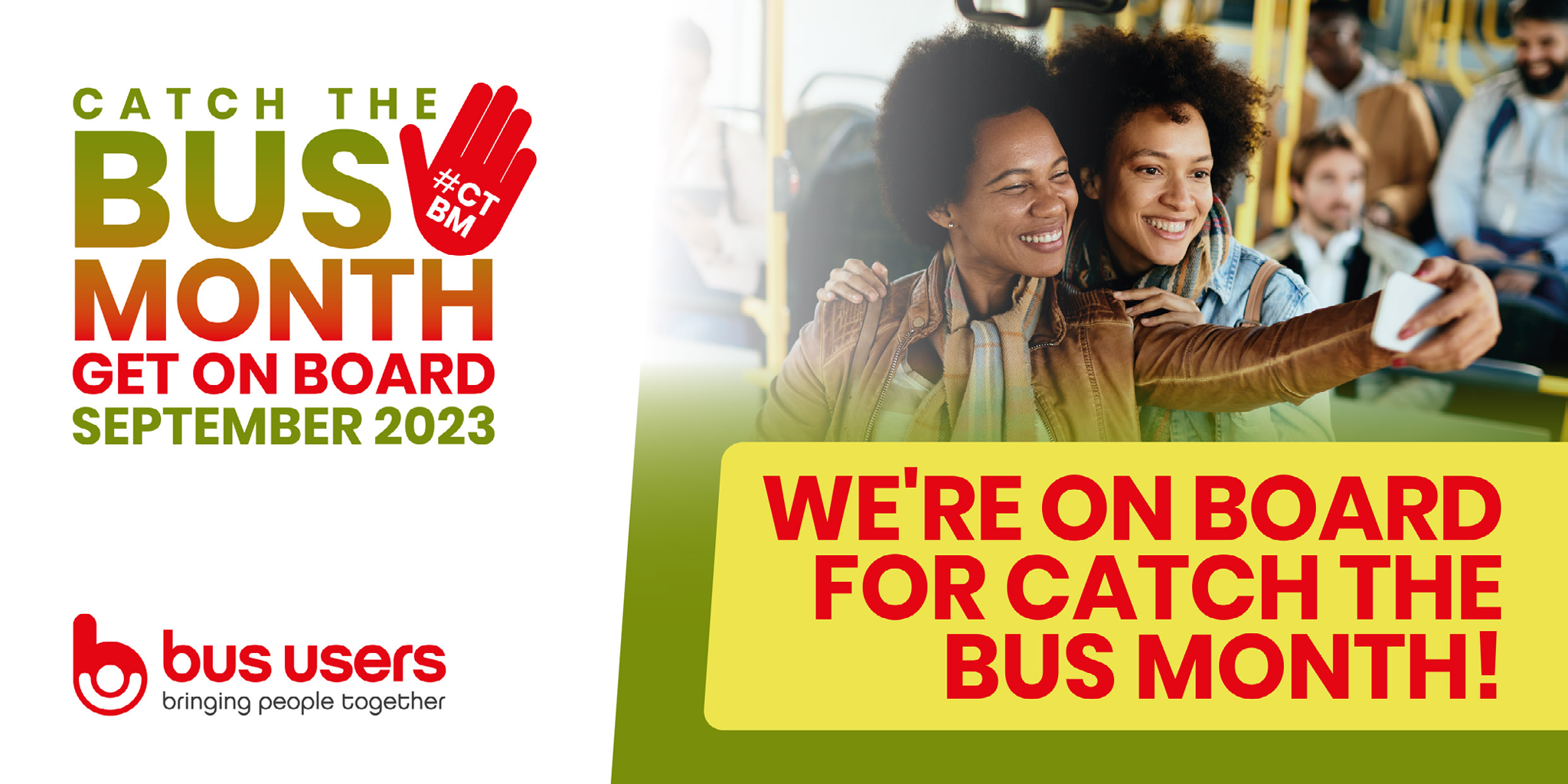 To mark Catch the Bus Month - a nationwide campaign running during September 2023 - we are helping to raise awareness of the benefits of travelling in this way, particularly among those who don't normally use public transport.
Using the bus reduces congestion, improves air quality and provides people from all walks of life access to their communities.
Buses is one of the most sustainable forms of transport, a double-decker bus can take up to 75 cars off the road and switching just 1 journey in 25 to the bus would save 2 million tonnes of CO2 emissions. Buses also reduce social isolation and improve health and wellbeing.
There are so many benefits from catching the bus including the following -
Tackling loneliness & other social benefits
Buses are central to the fabric of UK society, helping to connect people and alleviate feelings of isolation. Buses help local communities to thrive by keeping local people connecting and strengthening community ties.
Health & wellbeing
Travelling by bus can be a less stressful way to travel and frees up valuable time. Did you know that walking to the bus stop can, on average, help you achieve half the Government's recommended 30 minutes of exercise per day? Taking the bus frees your hands and your head, allowing you to catch up on life admin, read a book or play games on your mobile.
Economic
The bus is good value for everyone! Buses help tackle congestion, which costs the UK economy at least £11 billion each year. Did you know that more than 1 in 10 (11%) of commuters would have to change jobs or leave the job market completely if bus service ceased to exist?
Environment
It's greener to get around by bus – buses help tackle air pollution by taking cars off the road. One fully loaded double decker bus can take 75 cars off the road and if everyone switched just one car journey a month to the bus, there would be one billion fewer car journeys on our roads, and a saving of 2 million tonnes of CO2.
Our vision is to transform our communities into cleaner, greener, less congested and more prosperous places to live and work, where public transport is a convenient and desirable choice for everyone.
Why not explore the island further with our great days out and join in on Catch the Bus Month! Make use of the £2 single fare running throughout Catch the Bus month. Click here for days out ideas. Plan you journey in our APP.
We would love to see your days out by bus so don't forget to tag us on social media.