Important Changes to route 9 during The Isle of Wight Festival
3 weeks ago Mon 13th Jun 2022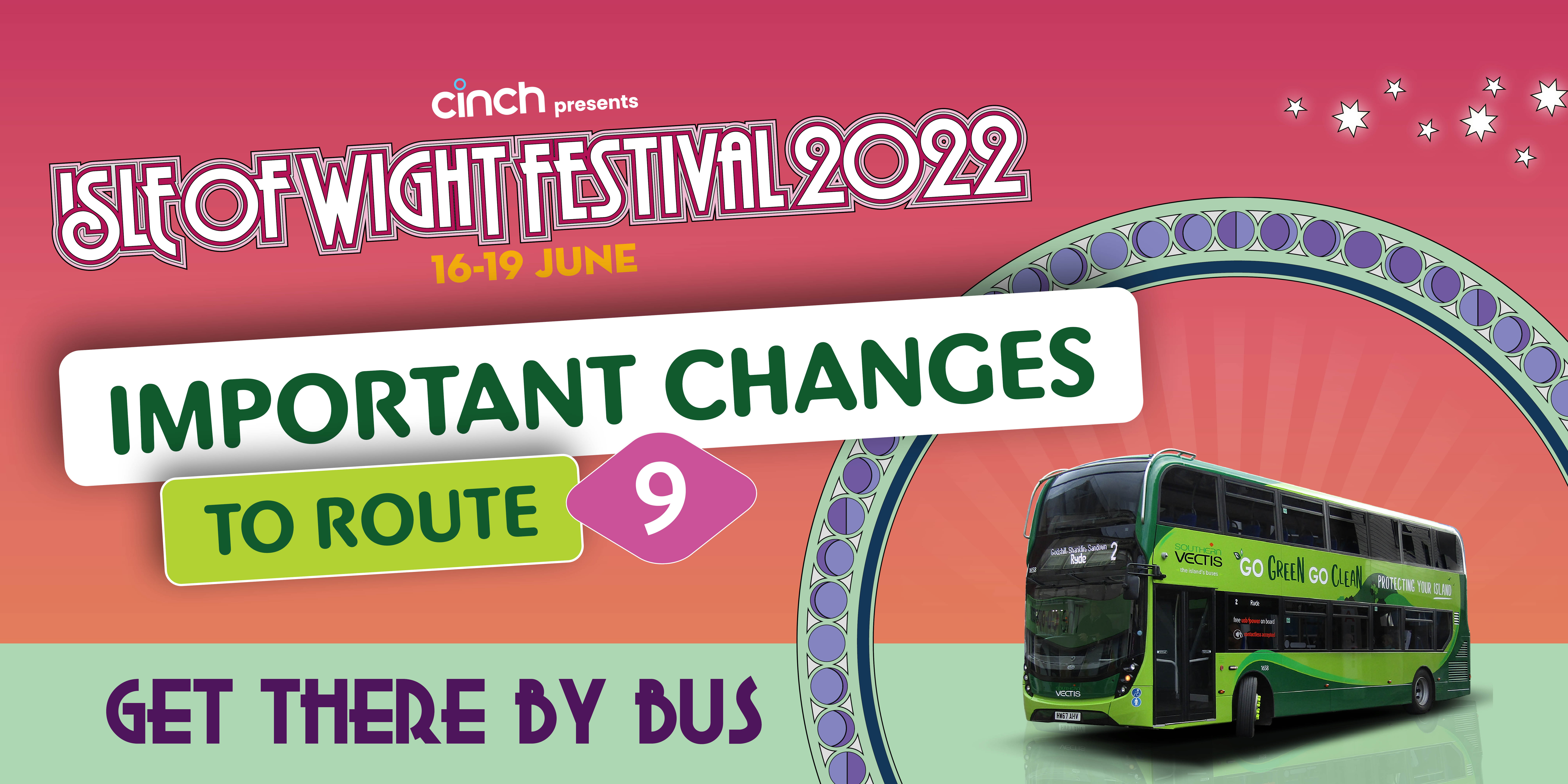 Changes to route 9 Ryde to Newport throughout Isle of Wight Festival period
From Thursday 16th June until Sunday 19th June 2022, ALL route 9 buses will operate via Staplers between 11.00 and 18.00 each day.
Customers from from Ryde, Binstead or Wootton going to Festival
Historically, route 9 becomes unreliable and overcrowded during the festival weekend as a result of the one-way system in place on Fairlee Road, and the large influx of additional passengers going to festival.
In 2022, in addition to the Esplanade shuttle and normal route 9, we're going to operate a bespoke festival shuttle along the route from Ryde, St John Street to the Festival, excluding the Esplanade and stops to Cross Street. It will operate every 20 mins between 11.00 and 18.00 Thursday to Sunday.
A special route 9f that will take people direct into the festival will operate between 11am and 6pm Thursday to Sunday and will call at all stops between Ryde, John Street and the festival. Special fares will be in sold for this special route, as it costs us more to put these buses on and they go into the festival. Regular Southern Vectis Rover/Freedom tickets will be accepted. ENCTS bus passes are not accepted on this special service.
If you're travelling from Ryde Esplanade to Festival, you should use the special shuttle bus taking you direct into Festival. The Ryde Festival Bus Stop and Ticket Booth is a short walk from Ryde Bus Station opposite the Rose Garden. Please follow the Festival Arrows.
If you're travelling from elsewhere in Ryde town, you should connect with the special 9f shuttle bus at John Street.
Customers NOT going to Festival
Route 9 will be operating throughout the weekend between Ryde and Newport, via Binstead and Wootton. Between 11.00 and 18.00 each day, all buses will operate via Staplers though, therefore avoiding the traffic congestion and one-way system resulting from the Festival. This will make journeys more reliable.
Customers for stops along the Fairlee section of route that the regular route 9 is not serving are advised as follows:
For stops along Lushington Hill between Racecourse roundabout and Wootton Cedars, customer should use route 4 to Wootton Cedars and connect there for the route 9 via Staplers
For customers between Racecourse roundabout and Seaclose/Fairlee should use route 5 and connect to route 9 at Newport bus station