Winter 2020 Timetable Changes
8 months ago Mon 24th Aug 2020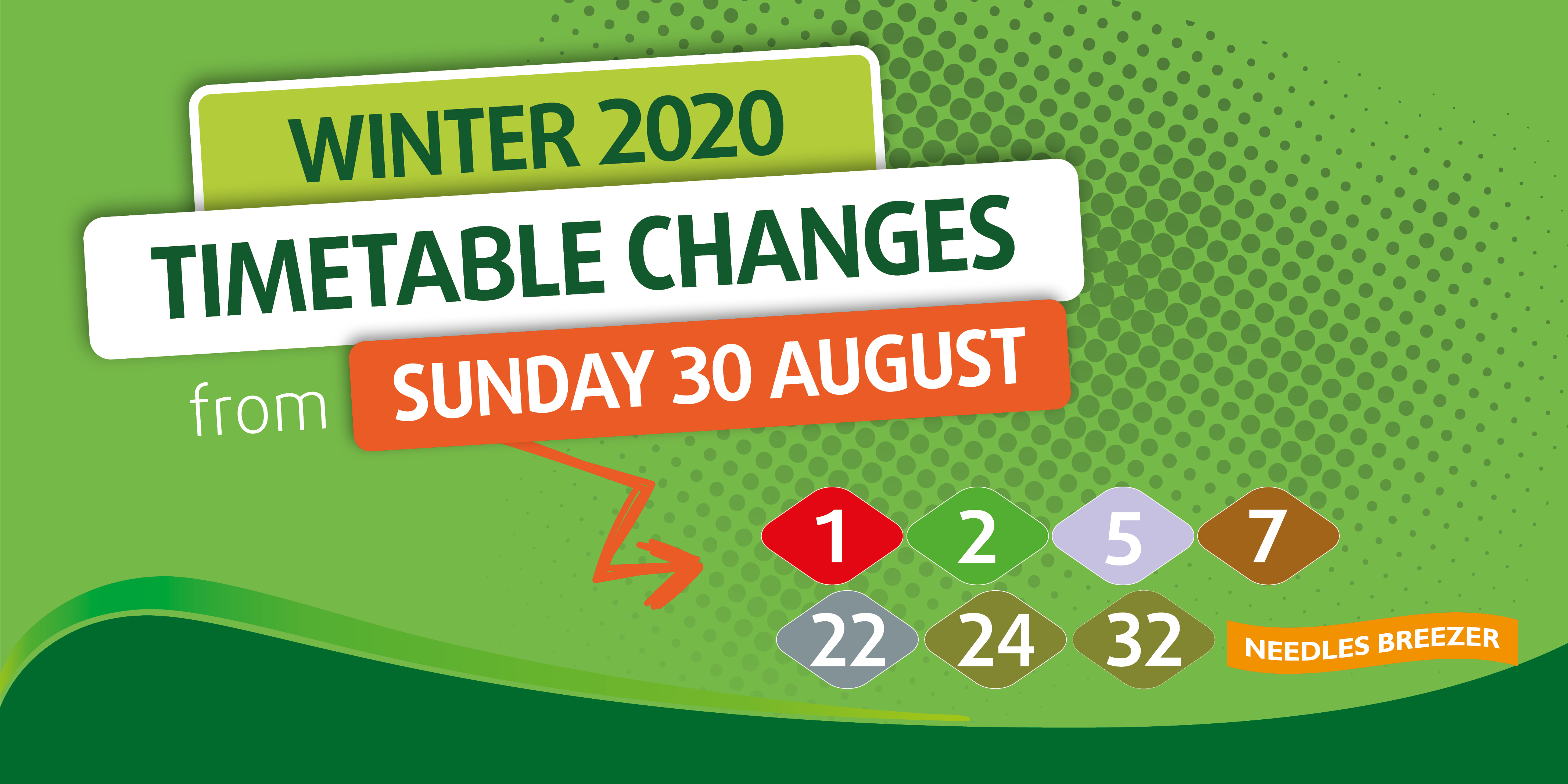 Our timetables are changing from Sunday 30th August.
As the world starts to return back to normal, so are we and we're really looking forward to welcoming you back on board to visit your favourite spaces and work places.
Please remember to adhere to government advice when travelling. Don't forget your face covering which is compulsory, unless you are exempt on medical grounds by law. To keep our drivers safe, please try and avoid paying by cash and consider paying by contactless or download our excellent Clickit2ride mobile app
Please review any updated timetables before planning your journey.
| | | |
| --- | --- | --- |
| ROUTE | Changes | Timetable |
| 1 | There will be more evening journeys with frequency returning to a bus every 15 minutes. Buses will continue to terminate at Carvel Lane (M&S) within easy walk of the Red Jet Terminal. The route 1 journeys that run between Newport Bus Station & IOW College at 0833 & 0853 will be renumbered 51 and run as a dedicated school bus. | View Timetable |
| 2 | The School day only bus at 0725 from Sandown to Newport is withdrawn but will be replaced by dedicated school bus number 62 | View Timetable |
| 5 | The bus at 0040 from Newport on Mondays to Saturdays will run 5 minutes later throughout. There will be a dedicated school bus for Medina College pupils from the school grounds at 1515 back to East Cowes numbered 55. Inthe morning there will be dedicated school bus from East Cowes to Carisbrooke College numbered 65. | View Timetable |
| 7 | The bus at 0830 from Alum Bay will start from Yarmouth at 0858 on Schooldays. This bus will still serve Alum Bay, Totland & Freshwater on Saturdays and School Holidays | View Timetable |
| 9 | There will be a dedicated school bus for Medina College students in the morning plus in the afternoon the bus will leave from the school grounds numbered 49. | View Timetable |
| 22 | Revised timetable with Alverstone Garden Village no longer being served. Will additionally run on Tuesdays | View Timetable |
| 24 | Revised timetable and routing in Lake with buses running via The Fairway instead of Lake Green Road & Roseway | View timetable |
| 32 | Revised timetable and will additionally run on Wednesdays | View Timetable |
| Needles Breezer | The Winter timetable will commence on Tuesday 1st September | View Timetable |
The Shanklin Shuttle and Downs Breezer will finish after the 31st August
Night buses on routes 1,3, 5 and 9 continue to be suspended.
There are no changes to any other routes.
All Southern Vectis timetables are available online, as well as a helpful journey planning service and a mobile app - Clickit2Ride - for quicker boarding and paperless ticketing.
A number of paper timetables will be made available and will be distributed at the beginning of October. Please note roadside information may not be up to date and please check the app or website to plan your journey.