Chance to fly across the Solent and enjoy unlimited bus travel across the Isle of Wight
1 month ago Mon 4th Jul 2022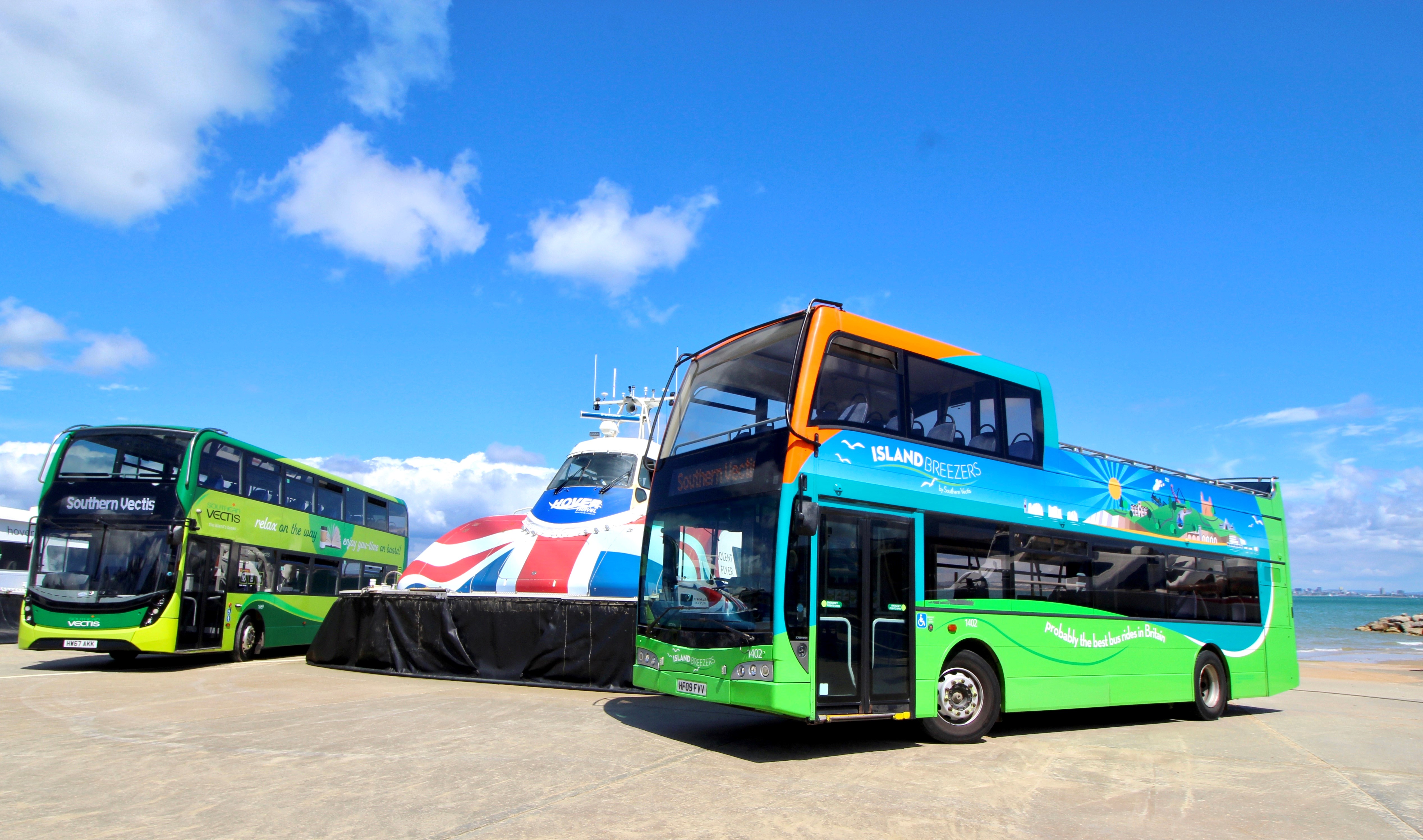 We are delighted to announce the reintroduction of our joined up travel partnership with Hovertravel.
Visitors to the Island can leave their cars at home, and fly to the island by hovercraft in under 10 minutes - safe in the knowledge that they can enjoy unlimited bus travel with Southern Vectis once they reach their destination.
"Flying across the Solent by hovercraft is a truly memorable experience - and now we're delighted to be emerging from a very challenging two years to once again team up with Hovertravel and offer visitors a special combination ticket," said Southern Vectis general manager, Richard Tyldsley.
"This means the Hover Rover Bus Ticket - at £34 for an adult - is all inclusive. People can use it to board the hovercraft to Ryde and then hop on-and-off our buses all day. And we're including our popular open-top Breezer buses in this, providing spectacular views of the wonderful Isle of Wight's countryside and coastline.
"The Hover Rover Bus ticket offers great value-for-money and a fantastic opportunity for people to leave their cars at home and relax as they discover the many delights and attractions the Island has to offer. Our teams are ready-and-waiting to provide the perfect day out on what is undoubtably one of the nation's most beautiful and breathtaking islands.
"And, we haven't forgotten those on the Island who wish to visit the mainland - perhaps for some retail therapy at Portsmouth's Gunwharf Quays, a jaunt to the Historic Dockyard or a theatre trip. For them, we are offering the Portsmouth flyer ticket.
"Costing £23.10 for an adult, this includes a return hovercraft and Southern Vectis 24 hour Rover ticket."
Neil Chapman, managing director of Hovertravel, added: "By choosing the fastest foot passenger ferry across the Solent, our customers have already taken the their first step on a car-free trip and thanks to our re-invigorated partnership with Southern Vectis, they can continue this journey and experience the best of the Isle of Wight at their leisure. The flexibility of a hop-on, hop-off ticket gives customers the opportunity to sample the broad range of attractions and activities available. We are excited to be working closely with Southern Vectis again, just ahead of what promises to be a busy summer season."
Tickets for the Hover Rover Bus ticket can be purchased online from Hovertravel - or from any of the operator's ticket offices. The Portsmouth Flyer can be bought on- board any Southern Vectis Bus by contactless or cash. For more info click here