Take the bus on Earth Day and get 24 hour travel across the island from £5
2 months ago Wed 6th Apr 2022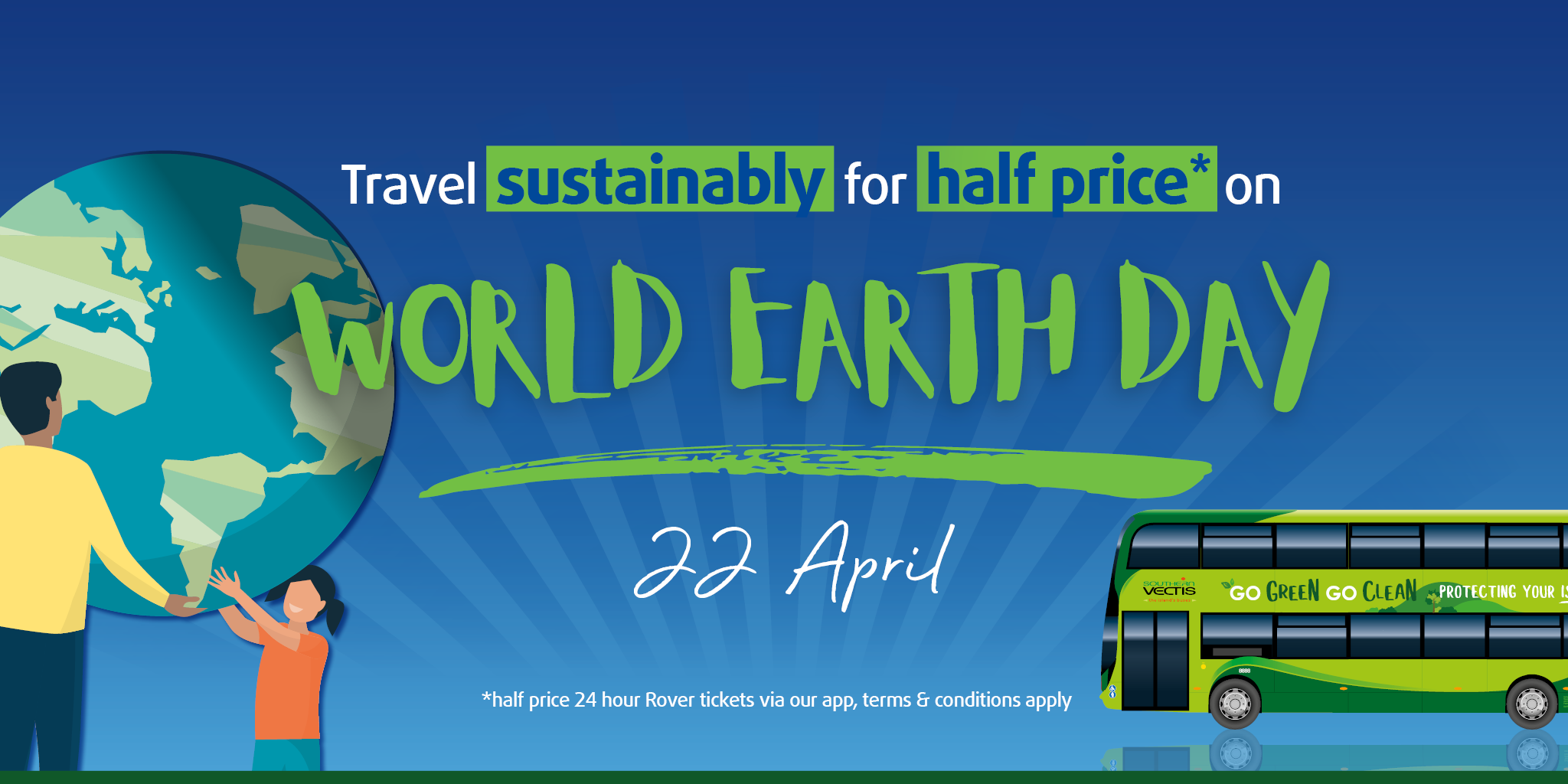 We are marking Earth Day which is on Friday 22 April - by offering passengers a half price 24 hour Rover ticket - encouraging you to leave your cars at home for the day and catch the bus instead.
"This means adults will be able to travel on our services for the whole of Earth Day from just £5," said Southern Vectis head of communications, Nikki Honer.
"We are committed to helping improve the quality of air we breathe here, and we have been working on this in a number of ways - including investing new, greener, vehicles.
"A double decker bus has the potential to take up to 75 cars off the road, and we're asking people to leave their own vehicles at home on Earth Day.
"Bus travel has changed beyond recognition over recent years, and those who haven't travelled with us recently will be amazed at the enhancements we've made. Our buses are more frequent, have more comfortable seating, offer next stop announcements and USB charging points for smartphone users, accept mobile phone payments, as well as contactless and tap on tap off - and they sport the very latest Euro 6 low emissions engines.
"We hope our Earth Day offer encourages more people to take the bus. If we can convert some car users, even for a few journeys, it could make a huge difference to the local environment in the long term, as well as helping ease the island's congestion issues."
Anyone keen to give up their car for the day and take advantage of all-day half price bus travel on Earth Day, Just visit or download the Southern Vectis' app and use the code EARTH22 to buy your ticket.
Anyone who wants to give up their car for the day and take advantage of all-day half price bus travel on Earth Day, can download the Southern Vectis app and use the code EARTH22 to buy their ticket.
In order to take advantage of this offer:
Download the app from the App Store or Google Play Store
Go to the Mobile Tickets section
Select the 24 hour Rover section
Click on the ticket you want to buy (young adult, student and child tickets do need to complete a one off verifictation).
If you do not have an account, you will then be asked to create one - in order to store your ticket.
Once you've created an account or logged in, add the discount code EARTH22 in the discount code section.
Select Buy Ticket, and purchase your ticket.
This will now appear in Your Tickets, where you can activate it when you are ready to go by bus.
*This offer is only valid to buy via the app on Friday 22nd April. There is not alternative payment method. It is valid for any dayrider ticket, including children's dayrider tickets (a verification process will need to be followed) but not group tickets. The offer can only be used once per customer.