Local volunteers named Southern Vectis Covid Heroes
5 months ago Thu 10th Jun 2021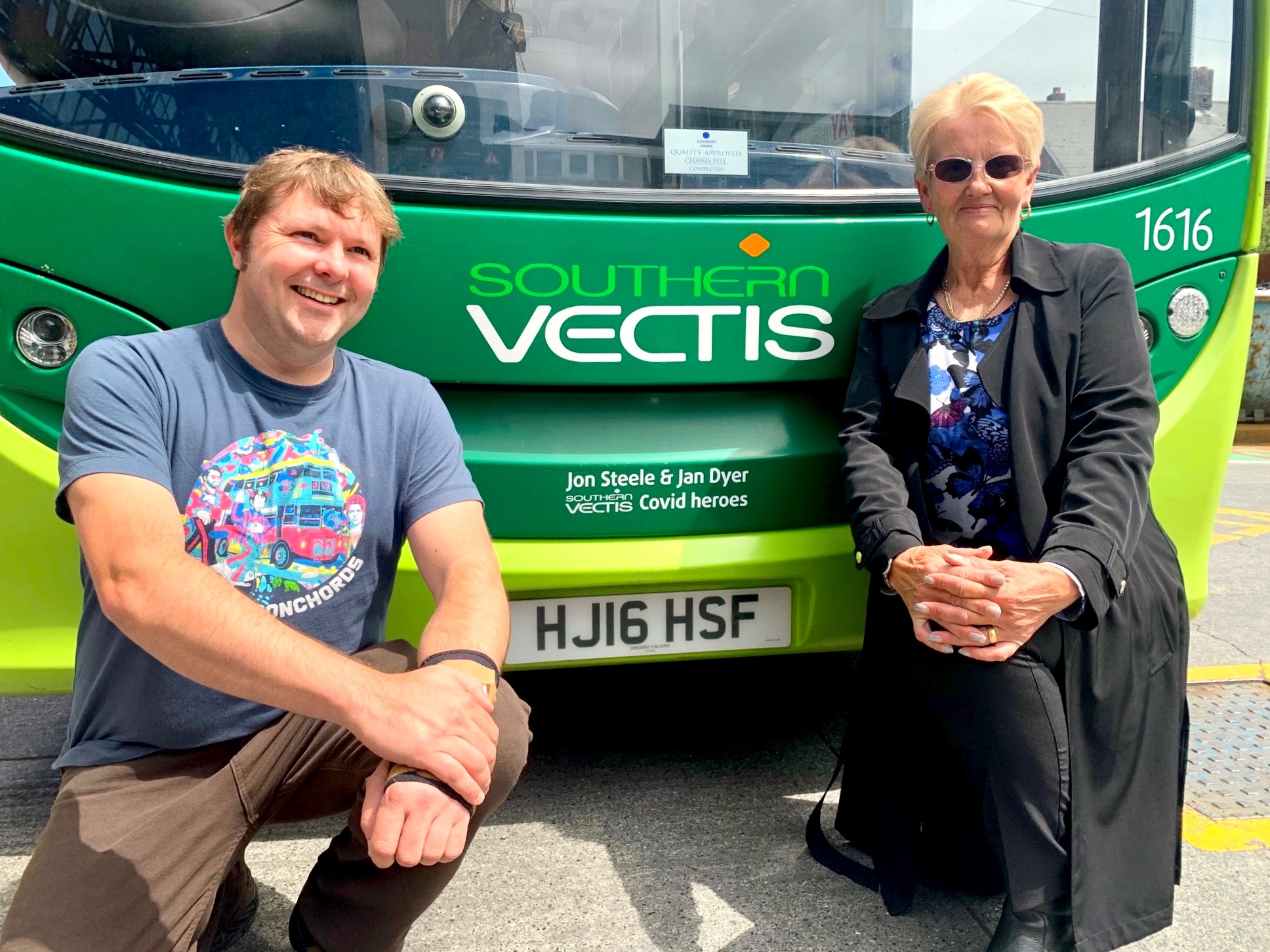 Two Isle of Wight volunteers who have devoted their time to creating and maintaining a vital community hub, are being honoured by Southern Vectis as Covid Heroes.
We launched the Covd Hero campaign, designed to recognise the mammoth efforts of key workers and community heroes during the coronavirus pandemic, at the beginning of 2021. And Jan Dyer and Jon Steele have been honoured for the work they have done within the Wroxall Community.
Jon and Jan are co-chairs of the Community Association - a registered charity which runs the Wroxall Community Centre. The centre needed an overhaul, and the pair worked tirelessly to bring it up to scratch - re-branding it as Stenbury Hall and completely redecorating the building, inside and out.
"These two outstanding individuals have created a wonderful hub for the local community," said Southern Vectis general manager, Richard Tyldsley. "Not only that but, at the start of the Covid pandemic, they launched the Wroxall Free Food Service - arranging food donations from supermarkets and local companies and residents.
"They pulled volunteers together to run this vital lifeline, for those in need within the community. But they aren't stopping there. They have future plans to set up a book exchange library service within one of the spare rooms at Stenbury Hall, so everyone will have access to books to read.
"On top of all this, they have worked hard to create brilliant community events for local children, during the pandemic when everyone needed some extra cheer. They have been innovative in creating events which are Covid-safe - and have consulted local police to ensure they are happy with arrangements being made."
The first of Jon and Jan's events was the Halloween Trek and Treat. The pair used volunteers from around the village, each holding a letter. Families were tasked with following a one way route to find all the letters, make up the Halloween word, and then collected a bag of sweets back at the hall.
"This event was incredibly well organised," added Richard. "The volunteers really took on the spirit of the event - in fancy dress as spooky characters - and the children had lots of fun.
"Jon and Jan also organised a Christmas event, again liaising with local police to ensure everyone could stay safe. All of this work has done wonders in pulling the community of Wroxall together.
"We were inundated with nominations from people across the Isle of Wight, telling us about the wonderful acts of kindness carried out by so many in the most difficult of times.
"Jon and Jan stood out because of their selfless attitude. They represent the very best of us, and I am delighted that we are able to recognise them as Isle of Wight Covid Heroes.
"They have been supported by a tremendous group of volunteers who have helped put their plans into action. We have been truly humbled by the number of people working so hard to keep our community going throughout the pandemic. They are all Covid Heroes - but Jon and Jan's efforts stood out above the rest."
In recognition of everything the pair have done to help those living in their local community, their names will appear on a Southern Vectis bus for all to see.
Jan and Jon said: "We were so surprised to win, but delighted. We wanted to bring the community together - and to have our name on a bus is brilliant."