Brading Evening Road Closure
2 weeks ago Thu 19th Jan 2023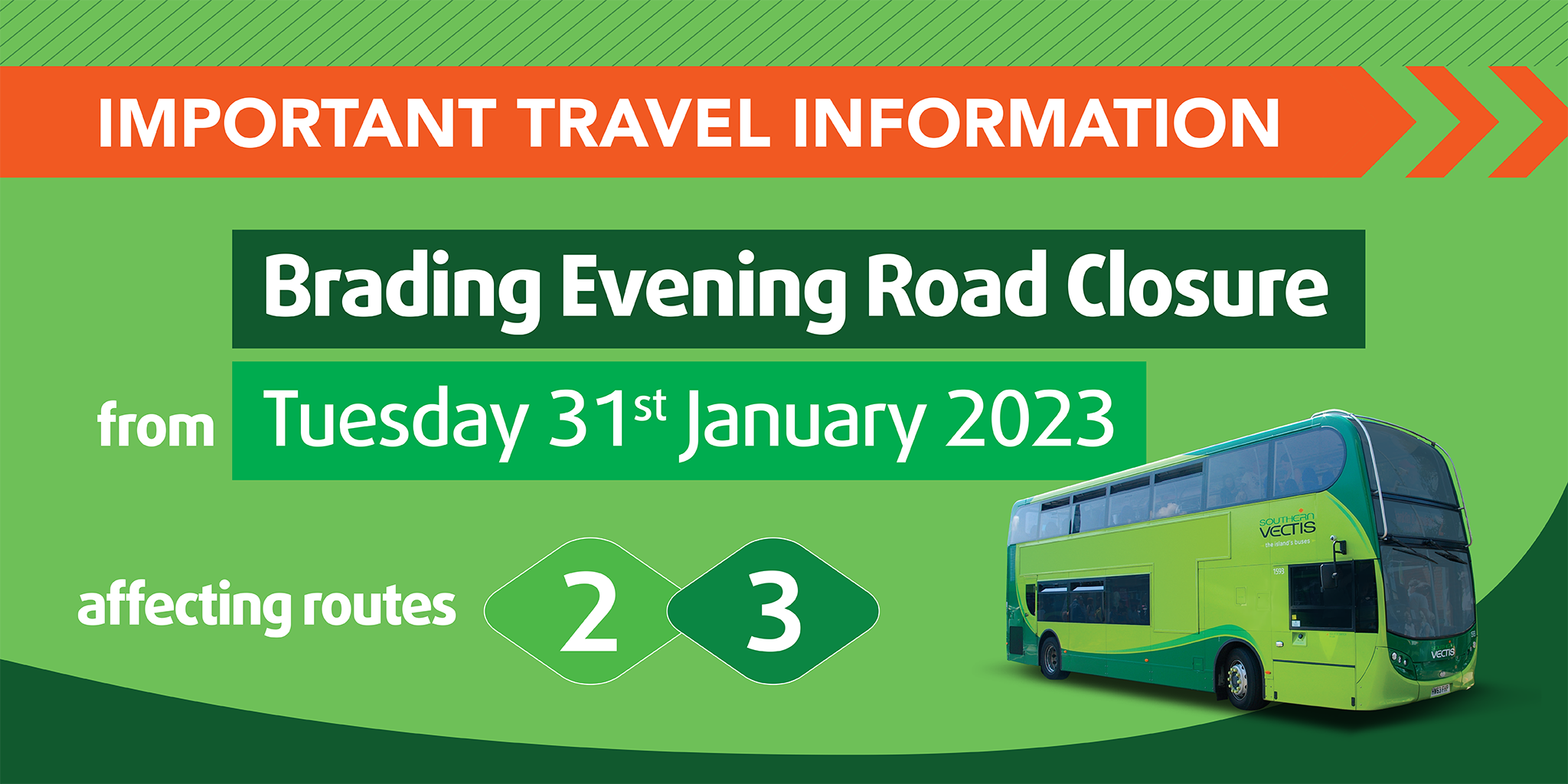 The main road through Brading High Street will be closed between Tuesday 31st January and Wednesday 1st March (subject to change) for works by Wightfibre. On Monday to Thursday the road is closed between the hours of 1830 and 0200. On Friday it is closed between 1830 and 2330.
However on Saturday and Sunday the road remains open and the bus timetable is as per usual.
Please check the timetables at the bottom of the page to see the amended timetables during these works.
During these times, Route 2 and 3 buses will be diverted via Bembridge, and will terminate at Tesco. A shuttle service will then operate between Brading Church, Tesco and Ryde.
Customers travelling towards Ryde:
Stops will be served on normal services as far as Yarbridge Crossroads where the bus will then divert via Bembridge (a temporary bus stop will be placed at Yarbridge Crossroads on the Sandown side of the traffic lights).
The stops at New Road and Brading Bull Ring will not be served - customers should use the shuttle bus as below from Brading Church to get to Tesco and Ryde
A shuttle bus will operate between Brading Church (from the car park, not the normal bus stop), Tesco and Ryde. Buses will be numbered 2 or 3 and will follow the standard route to Ryde.
Customers who have travelled from stops before Brading and heading in to Ryde will be required to change buses at Tesco onto the shuttle bus for their onward journey into Ryde.
Customers travelling away from Ryde:
A shuttle service will operate between Ryde and Brading via Tesco, on the standard route
Customers who are travelling from stops between Ryde and Tesco to Sandown, Shanklin, Ventnor etc will need to catch the shuttle bus and change onto the normal bus at Tesco
Customers for Brading should use the shuttle bus to Brading Church car park
The stops at Brading Bull Ring and New Road will not be served
Normal services will divert from Tesco via Bembridge and will rejoin the normal route at Yarbridge Crossroads - this would be closest stop for customers from Brading towards Sandown, Shanklin or Ventnor which avoids the longer journey of using the shuttle bus via Tesco.
The amended normal service 2 timetable
The amended normal service 3 timetable
The amended shuttle service 2 and 3 timetable